A nation-level badminton champion, a super successful model and Bollywood's dream girl. Yes, all hail the one and only Deepika Padukone. She started off her career as a badminton player and went on to become India's top model. But, her real calling came from Bollywood. 
She made her debut as a dream girl, acted in various glamorous roles and today she's one of India's finest and versatile actresses. Oh, she didn't settle there, she went to the west and made a name for herself in Hollywood too!
She has won a Filmfare, Stardust Award, Screen Award, CNN-IBN award and a whole slew of other accolades. Damn, we can keep counting, but that will complete the entire blog! From her early days until today, what remained constant is her zeal to experiment, excel, and of course her sleek hairstyles.
We won't keep you waiting any longer, let's dig into Deepika Padukone's arsenal of awesome hairstyles and how you can achieve them at home with clip-in hair extensions installation.
Top 4 Deepika Padukone Inspired Hairstyles
1. Bachna Ae Haseeno
Deepika Padukone looks ethereal in this film with jet back long and wavy hair. Remember how she looked like an angel while the wind caressed her hair in the song Khuda Jaane? Knock, knock, time to come back to reality. 
You can achieve the same look by using clip-in extensions. All you need is long clip-in hair extensions in 26 inches. These clip-in extensions will help your hair come to the hip-level. Just put on the clip-in extensions, dampen your hair a little and comb it out. 
Another 10 mins and you are all set. Just use your flat iron on your hair and clip-in extensions to create long and magical waves. There you go! You are ready to look like Gayatri.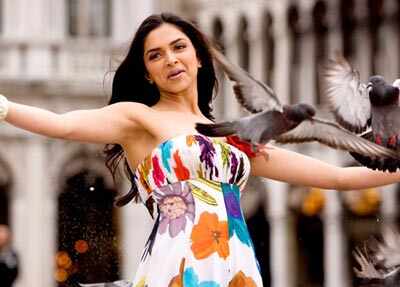 Source: www.toiimg.com 
2. Desi Boyz
Deepika shocked everyone doing chop-chop with her hair all of a sudden. Not just that, she added a bit of colour and a whole lot of bangs to her hair too. She replaced the long hair that was in fashion until then with a short urban girl look in Desi Boyz. 
Wondering how to achieve this look without damaging your hair with colour? Well, clip-in extensions are the answer. 
All you need to achieve this look at clip-in bangs and balayage clip-in extensions in caramel brown. Put the clip-in bangs and chop them off to create the perfect side bangs. The next step is to add the balayage clip-in extensions into your hair, comb your hair out really well and straighten it. 
Look into the mirror and see yourself transformed.
Source: www.pinimg.com 
3. Ram Leela 
Magnificence, splendor and a plethora of other adjectives also would not suffice to describe Leela from Ram Leela. Deepika's look from the movie stayed on in people's minds for years to come! 
The messy bun with bronze highlights in the crown that Deepika donned in most of the movie is super easy to achieve. By now you already know that we don't mean for you to use chemicals and torture your hair cuticles!
All you need to achieve this look are clip-in extension streaks and our messy bun scrunchie. Put on the clip-in extension streaks all over your crown uniformly, comb out the hair, and secure it in a bun.
Once your hair is secured in a bun, put on the messy bun scrunchie on and done! Yes, really, done. No, no this is not a prank. Leela's hairdo you have been dreaming about for years now is that easy to achieve with clip-in extensions. 
Try it now and get ready to do the garba!
Source: www.imgur.com 
4. Bajirao Mastani 
We honestly are out of words to describe Deepika's look in Bajirao Mastani. As cheesy as it sounds, it is super true. Don't you agree? No one could have pulled off Mastani's role as gracefully as she did. 
Are you in the mood to transform into a warrior princess from the past? Don't worry you don't need a time machine or a sorcerer to do it. 
All you need are some long clip-in extensions made of human hair extensions. Get your hands on 26 inch long hair extensions, clip them into your hair and comb it out nicely. 
Use a flat iron to straight up to 16 inches of the hair and create long waves at the bottom. That's it, wear a golden glittery ghagra and you are all set to perform on Deewani Mastani! 
Source: www.news18.com 
So, go on ladies and try your hand at these hairstyles. Always remember, your confidence is what makes the real difference in everything you do. So try these hairstyles with our
clip-in extensions
and look in the mirror with absolute confidence, because no one is as beautiful as you are. XOXO